Welcome to the new SCHOOL YEAR!
We are looking forward to seeing you all, and beginning another exciting year. Please find below some reminder messages. School staff will also be out in the morning to help you find your way to your new classrooms.
The school office can get busy in the first few days so please remember you can email office@shenton.leicester.sch.uk or phone 0116 2628778 as an alternative.
See you very soon!
Ms Gita
School map of classes
We look forward to welcoming all the children and families back to school tomorrow.
Playground gates will open at 8.30am, classroom doors will open at 8.40am, closing at 8.50am (any late children will need to go to the office). At home time, gates will open 3.05 pm. and children will be released at 3.10pm.
Please see a map below of where each class is located this term.
Members of staff will be outside tomorrow morning when your child returns to school to help you find the classes if you are unsure.
Reminder - SCHOOL time CHANGE
Please remember the time changes to the school day as listed below:
8.30 am Gates will open - please stay with your child until 8.40 am when classroom doors will open.
8.40 am Registration starts
8.50 am Lessons start and classroom doors will close. Late children will need to come via the office to avoid disrupting the beginning of the first lesson.
3.05 pm Gates open
3.10 pm Classes finish
Breakfast Club will continue from 8 am.
Lunchtimes will remain the same: Reception: 11.45 am - 12.45 pm. Year 1 & 2: 11.30 am to 12.30 pm Year 3 & 4: 11.30 am to 12.30 pm Year 5 & 6: 12 to 1 pm
Sports Clubs will run from 3.10 pm to 4.10 pm
If you have any questions or queries please see the office.

Parent Toddler
The Parent Toddler Group will run every Thursday starting on Thursday, 14th September, from 1.15pm to 2.50pm with Mrs Navsariwala and Mrs Nathani.
Mums and Dads are welcome to come along with toddlers and meet other parents and help their child develop their learning whilst they play.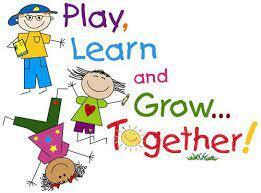 Lunch price increase
Just a reminder school meals for pupils in Year 3 to 6 will go up by 10p to £2.55 per day, £12.75 per week.
Pupils can continue to have meals on days of their choice and parents can pay online via parent pay every week. We will be starting on week 2 on the school dinner menu this week.
If you have any queries please come to the office.