30.10.2020 Parent letter
Dear Parent,
I am writing today about some updates and what's been happening in school this week.
COVID-19
We will be welcoming back 4 Brazil next week, and are not waiting for any test outcomes at the moment.
Please continue to stay safe.
Tablets and Laptops for Children
We have been phoning Year 4 and Year 3 classes, distributing tablets and laptops. Thank you to all of you who have returned forms so far requesting a tablet or laptop. If you would like one, and have not let us know yet, just email office@shenton.leicester.sch.uk and we will get back to you.
Some of you have great IT skills and are happy to take the device and get up and running. For those of you that need support, we will show you what to do etc. and make sure you can use it. Your child is likely to have great IT skills so please let them help.
For those of you that need help we need to talk to you one at a time, which is slowing down the distribution. Please don't worry we will get to you over the next few weeks.
Winter Cold & Dress
We are balancing keeping windows open with keeping classrooms warm. The windows need to be kept open to ensure rooms are well ventilated (COVID_19 health & safety measure), but we also need to keep the rooms warm.
Teachers and children need to dress appropriately which means, as the weather turns colder please make sure your child has:
Socks and shoes (that cover the whole foot).
Vests or T-shirts under their school uniform shirts/tops
Their school uniform shirt/top has long sleeves
Wearing a sweatshirt or jumper
Has a coat / gloves/hat
From Monday, if we feel your child is not appropriately dressed in classrooms we will contact you, but I know you love your children and will make sure they are able to stay warm.
Y6 Prayers
Unfortunately this year, due to the requirements of keeping children in their bubbles and limited staff, we cannot support your child to pray at lunchtimes. Hopefully next year this will not be the case and we will be able to do this again as restrictions lift.
In the meantime, please remember you can take your child home for lunch and pray with you then.
What's been happening this week…..
Pheasant! We have a (common) pheasant that has been on and around the school grounds all week. It is a beautiful large bird that is normally found in grasslands, near small groups of trees and water. We don't know why or how it has got here, but we have had fun trying to catch it (!?) to take it to the countryside, but without any success. Hopefully it will find it's way back home and avoid our foxes!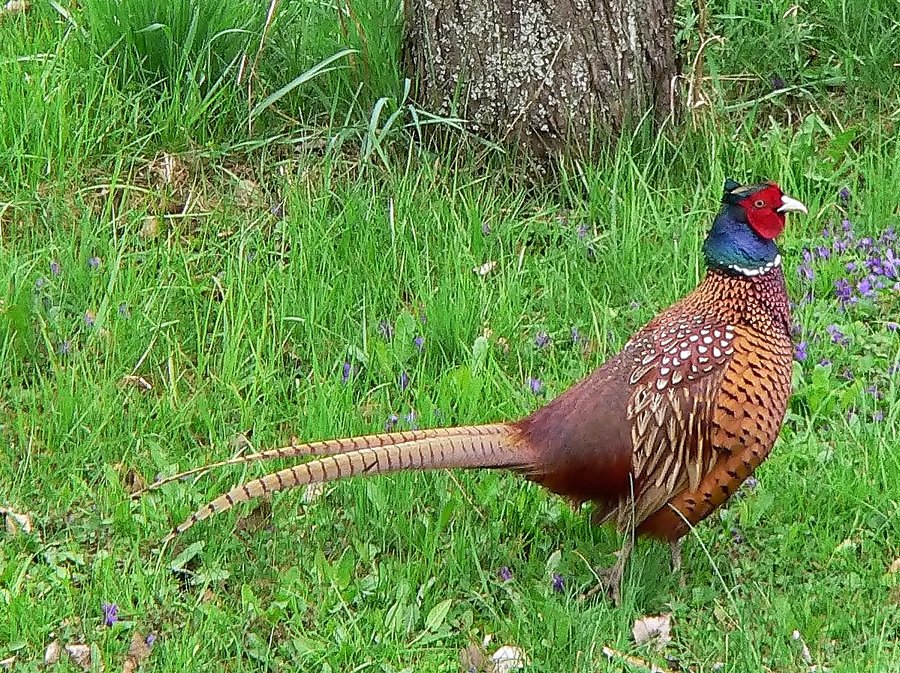 Weekly Awards
Catch Me Being Good: The classes with the most stickers for great behaviour this week were 6Italy and 1Japan.
Attendance Trophies: The classes with most children attending this week were 3 Kenya and 6 Australia.
Halloween
Tomorrow, 31st October is Halloween. It is a very old British tradition that no longer has any religious ties for the vast majority of us.
For us it's a time to tell some scary stories and have some fun! The library service have been telling some spooky tales too, so you might like to share these with your children.
https://www.youtube.com/playlist?list=PL36Ij8AN28RagqNsdVn2y4K37MYwunAcH
And finally……..
Two boys who have had disagreements in the past, chose to work together in PE this week. The teacher saw one being gently encouraging and guiding the other to successfully develop their skills even though they didn't like the lesson.
(It has always been, that Shenton children show this incredible kindness to each other and that is a direct reflection on our community, so I hope you feel proud.)
In another class we were teaching place value, which is when the children learn that for example 2345, represents 2 thousands, 3 hundreds, 4 tens and 5 ones. The children are taught to break numbers up and use counters e.g.
Thousands

Hundreds

Tens

Ones

=

=

Ɵ

Ɵ

Ɵ

Ο

Ο

Ο

Ο

y

y

y

y

y
A child was partitioning numbers on the place value grid and when asked why the 100 place value counter couldn't go in the Thousand column, the child said it was because they had to social distance!!
Have a lovely weekend, remember we are here to help if you need anything.
Ms Gita