12.2.2021 Ms Gita Parent Letter
Dear Parents,
I hope your all continue to be safe and well as we finish this half term.
Below are a few messages, and we will be back online from Monday 22nd February 9am, and open for our Critical Worker / Vulnerable Children as well as for our Nursery children as usual.
COVID-19 Update
I am sure we will continue to keep ourselves updated about the local and National picture. On Monday 22nd February the Government will be announcing their 'road map' for coming out of this lockdown. Within this will be a statement about schools reopening for children again.
Whilst we all know safety must come first, we also know the children for their own mental health, need their own routines back including seeing their friends and learning at school.
Support for You
I will continue to remind you we are here to help if we can. Please email us on office@shenton.leicester.sch.uk and we will call you back. All calls will be treated confidentially.
Our Mental Health
Over half term, I hope you will take the opportunity to be as active as possible. The weather is due to get a little warmer next week, so it won't be bitterly cold.
It is also an opportunity to consider your children's diet, as we know a healthy diet helps us to keep a healthy mind too. After the last lock down, a small number of children had visibly gained weight. In school we often see these children being unable to participate fully in games at playtimes and lunchtimes because they cannot keep up with the other children, which in turn effects their self-confidence. If you need any help with this please get in touch, either email office@shenton.leicester.sch.uk or phone 0116 2628778 during usual school opening times.
Whilst most of us are in a safe environment at home, if for any reason you need help, please consider the contacts at the end of this email or contact us and we will try to find the help you may need. Again, please do not suffer in silence, reach out to someone you trust.
On Line Learning
Over half term there is a competition running for Y3, Y4, Y5 & Y6 via Timetables Rockstars. We are competing against Bridge Junior, and have also invited Charnwood and Taylor Road to take part. It is a class competition, so let's see which class wins across all the schools! To win, play the game and the children will learn their timetables too.
There is also a skipping challenge that we sent information to you about on Monday 1st February, please check through your news notifications for more information. It's another fun way to try and stay active over half term, just don't forget to email Mr Makda your results, ymakda@shenton.leicester.sch.uk
Time Away From Screens
It's important that the children get a break from learning through computer screens so please try your best to keep it to a minimum over the week.
School Governor
Please don't forget that we are looking for a School Governor to join our team. If you think you could help please get in touch, email gpatel@shenton.leicester.ch.uk
Attendance This Week
Congratulations 3 Kenya, 5 Portugal and 6 Australia!
Of course, also a well done to all the children that made every lesson this week too, and all the classes that made it above 95%.
| | | | |
| --- | --- | --- | --- |
| Group name | % | Group name | % |
| Nursery | 88% | Reception | 96% |
| 1 Holland | 94% | 4 Brazil | 97% |
| 1 Japan | 96% | 4 Canada | 97% |
| 2 Pakistan | 90% | 4 Slovakia | 93% |
| 2 Spain | 96% | 5 France | 95% |
| 3 Kenya | 98% | 5 Portugal | 98% |
| 3 Poland | 94% | 6 Italy | 97% |
| | | 6Australia | 98% |
Special Mentions Week Ending 5.2.2021
Every week teachers select 2 children from the class for a 'special mention'. Children are chosen because they may have demonstrated the values of respect, confidence, collaboration, communication, perseverance or enquiry, all of which we need to be successful in life.
Please click here to find out who received an award this week.
In Summary….
It has been another fairly smooth week despite the snow and cold weather, I hope it was for you too, and that you've organised a treat for yourself and the family to mark half term.
And finally….
The foxes have been back! During isolation in March, a female fox or vixen had her litter at school. Two of the cubs, who are nearly full sized now, left footprints in the snow so Mr Blockley was able to get a picture of them. Looks like they've been having a little bit of fun in the snow too.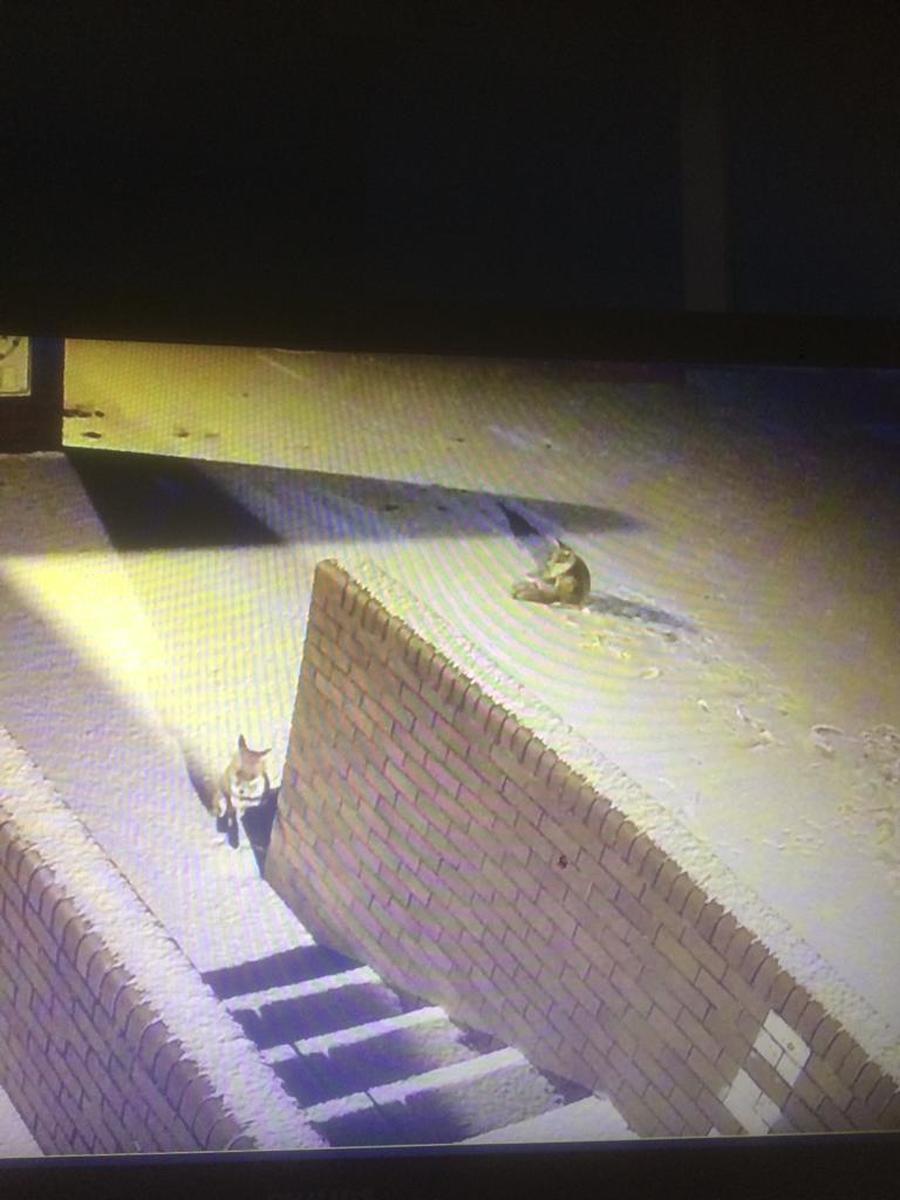 Stay safe, stay sane and stay well everyone.
We will see you all again in a week's time on Monday 22nd February.
With regards,
Ms Gita